Thinking in DDD – Open for Early Bird Enrollment
Our latest remote training offering, happening in October, has $500 early signup discount until August 12. Check it out here.
About Domain Language
We are a small consultancy focused on Domain-Driven Design (DDD). Mostly we provide training for teams trying to apply the technique, as well as a limited amount of hands-on involvement with projects.
Domain Language is led by Eric Evans, who wrote the first book on DDD.
Domain-Driven Design Reference Guide now available for direct purchase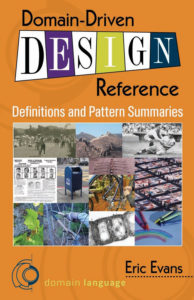 This reference guide provides a quick and authoritative summary of the key concepts of Domain-Driven Design. It is not meant as a learning introduction to the subject. Eric Evans' original book and a handful of others explain DDD in depth from different perspectives.
On the other hand, we often need to scan a topic quickly or get the gist of a particular pattern. That is the purpose of this reference. It is complementary to the more discursive books. Buy it here.
Let's Train Your Team
An on-site DDD Immersion gives your team:
A shared vision and vocabulary of design.
New approaches for collaboration with business stakeholders at all levels.
Fresh energy and focus.
For rates, availability, and other information, write to us via our
Contact
page.
Check out our range of classes  »
Check out DDD eLearn!
Our video-based course on Domain-Driven Design (DDD) is just over 5 hours of tightly edited video.  This self-guided course focuses on the deep concepts of DDD, explained by Eric Evans, author of the original book on DDD, Domain-Driven Design: Tackling Complexity in the Heart of Software, 2004.  It is targeted primarily at architects, senior developers and others with responsibility for shaping the design of a software system.  Individual subscriptions or Enterprise Bundles are available.