ONE DAY COURSE for Architects, technical leaders, developers, analysts and development managers.
Build your awareness of the basic concepts and value of Domain-Driven Design (DDD) in one day.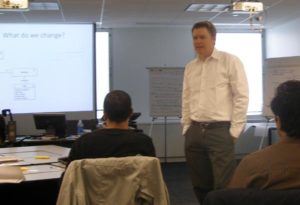 Understand what DDD is and when and why it is valuable to software intensive organizations.
Overview the basic principles and processes needed develop the useful sort of models, tie them into implementation and business analysis, and place them within a viable, realistic strategy.
Recommended Background
Some experience with projects developing complex software systems.
Familiarity with iterative development processes.
Topics Introduced
Morning: Ubiquitous Language & Model Discovery
What is DDD?
What makes a model useful to a software project?
Cultivation of a model-based language to connect domain experts, developers, and the code itself
Exploratory interaction of technical and business people in the modeling process
Aggregates: A taste of rigor. This pattern addresses, at the model level, the scaling of systems in complexity, performance, and distribution.
Afternoon: Strategic Design
Distilling the Core Domain: Focusing fine modeling and design into those subdomains where the organization distinguishes itself
Clarifying a shared vision
Context Mapping: A pragmatic approach to dealing with the diversity models and processes on real large projects with multi-team/multi-subsystem development.
Combining the Core Domain and Context Map to illuminate Strategic Design options for a project.